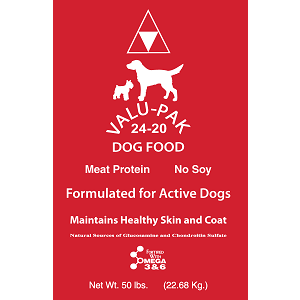 This product is currently 2.00 off the regular price
50 lb Red bag
Offer valid through: 02/27/19. Some restrictions may apply.
Valu-Pak 24-20 Dog Food 50 Lb.
Manufacturer: Specialty Feeds
Featured Product
Discounted Product
A great value on a food with two protein sources and no soy! This blend is for all life stages and is a tasty food for your dog. All dog foods meet or exceed AAFCO nutritional guidelines and are backed by a 100% satisfaction guaratnee.