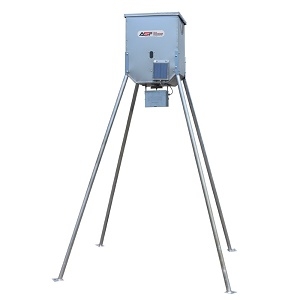 This product is currently 34.00 off the regular price
Offer valid through: 07/26/19. Some restrictions may apply.
300 lb. Evolution™ Broadcast Feeder w/ Solar
Manufacturer: All Seasons Feeders
Featured Product
Discounted Product
Our 300lb Evolution™ Feeder is made of heavy galvanized metal and uses the Eliminator Spinner plate. This plate prevents varmints from stealing your corn. Can be used without a varmint basket.
Includes:
Heavy duty 12v motor

12v Solar Panel

The Eliminator Spinner

THE TIMER

12v Battery Included