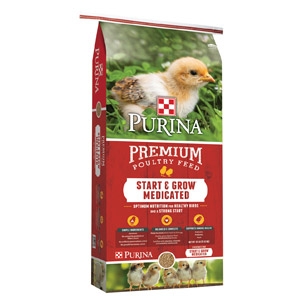 Start & Grow® Medicated Chick Feed Recipe 25lb.
Manufacturer: Purina
SKU: 0427304351
An 18%-protein ration perfect for raising laying chicks from hatch to laying age (18-20 weeks). Available in medicated & non-medicated formulas.
This SunFresh® Recipe diet takes "natural" to a whole new level by using only the freshest, highest quality sun-grown grains and plant proteins to give birds the wholesome, healthy goodness and fresh taste they deserve. Made from natural plant-based ingredients FREE of all animal proteins and fats, it contains all the quality nutrients necessary to produce strong, healthy, beautifully colored birds.
Click here for guaranteed analysis and more information.