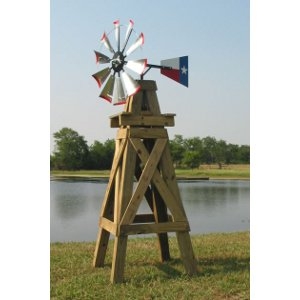 This product is currently 50.95 off the regular price
Offer valid through: 04/26/19. Some restrictions may apply.
Lonestar 8' Windmill
Featured Product
Discounted Product
Height: approximately 8 feet tall when measured from ground to top of fan.
Fan diameter: 30 inches
Head Components:
The blades, wire ring, and rudder are made from galvanized metal.
The hub and bearing assembly is high quality and designed to last in an outdoor environment.
One year warranty on all windmill heads, which covers against failure and breakage caused by manufacturing defects or parts wearing out.
Rudder/ Tail - available as galvanized or Texas Flag design.
Windmill Stands:
Made with pressure treated lumber with mounting stakes included.