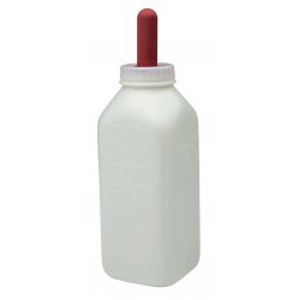 This product is currently 1.00 off the regular price
New Price - Per Bottle
Offer valid through: 03/29/19. Some restrictions may apply.
Calf Nursing Bottle w/Nipple 
Manufacturer: Miller Manufacturing Company
Featured Product
Discounted Product
Bottle is sturdy and sanitary, made of FDA-approved, food-grade polyethylene plastic that is durable yet translucent enough so you can see the content level. Nipple is made with a special rubber formula to prolong nipple life and improve pliability. Threaded top for a secure fit. Bottle is 4.25 inch square by 10 inch high, holds 2 quarts. Nipple is 1 inch diameter by 3 inch long.