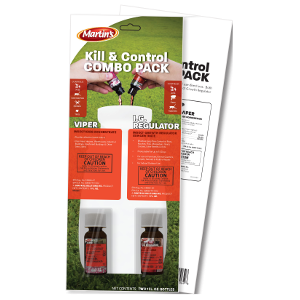 This product is currently 2.81 off the regular price
1 oz bottles
Offer valid through: 04/26/19. Some restrictions may apply.
Martin's Viper/IGR Combo Pack
Manufacturer: Control Solutions Inc.
Featured Product
Discounted Product
Kill & Control Combo Pack. Viper Insecticide Concentrate and I.G. Regulator Insect Growth Regulator. Two great products in one convenient pack.
I. G. Regulator is an insect growth regulator that inhibits reinfestation of fleas for up to seven months. Inhibits larvae from advancing to adults in fleas, roaches, flies, mosquitoes, gnats, crickets, litter beetles and ants. Can be used on carpets, rugs, furniture, draperies, in poultry houses, animal quarters, kennels, doghouses, and warehouses. One ounce per gallon of water treats 1,500 sq. ft.
Viper Insecticide Concentrate provides residual control of roaches, ants, silverfish, spiders and many other insects. For use around warehouses, industrial buildings, greenhouses, rail cars, hotels and other listed sites. May be used indoors. (Excluding California)