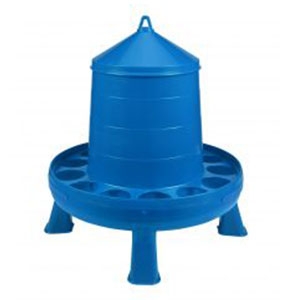 This product is currently 10% off the regular price
Offer valid through: 06/28/19. Some restrictions may apply.
26 lb. Poultry Feeder with Legs
Manufacturer: Springer Magrath Livestock & Vet Supply
Model Number: DT9877
Featured Product
Discounted Product
A great high-capacity Poultry Feeder designed just for the hobbyist. Removable legs raise the feeder off the ground to keep the feed free of dirt and debris. The built-in Feed Saver Ring minimizes spillage and prevents wasted food. The durable one-piece construction of the jar and Feed Saver Ring for quick and easy assembly. Made of impact-resistant plastic that won't rust or corrode. The included plastic lid protects the feed from the elements. Handy carrying handle. Holds up to 26 pounds of feed.