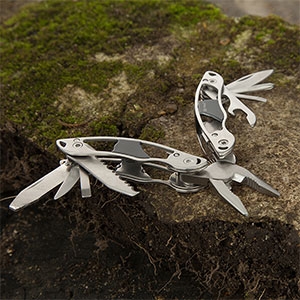 This product is currently 10% off the regular price
Offer valid through: 06/28/19. Some restrictions may apply.
Nebo® Framework Mini Pocket Tool Set
Manufacturer: Nebo Innovative Tools
Model Number: TU194
Featured Product
Discounted Product
An open-framed, cleverly constructed stainless steel multi-tool for your pocket or key ring, with a range of essential tools.
Features:
• 11 tools in 1
- Pliers
- Spring-assisted wire cutters
- Saw
- Knife
- File
- Bottle opener
- Can opener
- Phillips screwdriver
- Small and medium flathead screwdrivers
- Awl
• Compact folding size
• Key ring attachment