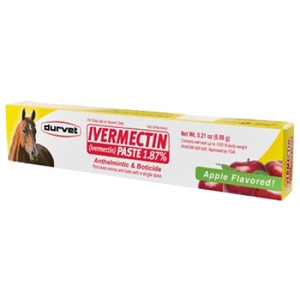 This product is currently 1.00 off the regular price
74580111033 - per tube
Offer valid through: 03/29/19. Some restrictions may apply.
Durvet Ivermectin Apple-Flavored Paste Equine Wormer
Manufacturer: Durvet Animal Health Care
SKU: 74580111033
Model Number: DUR77
Featured Product
Discounted Product
Apple flavor that horses love! Removes worms and bots with a single dose. Safe to use on all horses, including broodmares, breeding stallions, and young foals. Paste-gel that is easy to administer. Allows horses to reach their full potential by providing effective, safe parasite protection. Convenient, easy-to-use syringe allows for fast, fool-proof application.