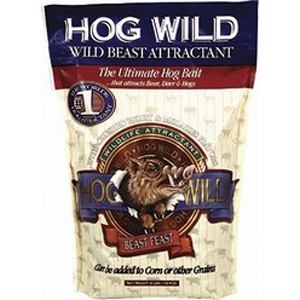 Evolved Habitats® Hog Wild Wild Beast Attractant 4 Lb.
Manufacturer: Plano Synergy Outdoor Products
Model Number: 34094
Hog Wild will drive hogs crazy! Hogs will root a hole over three feet deep to get the last grain of this irresistible attractant. Hog Wild attracts many different wild animals...using the flavor of crushed berries and molasses. Use it to top grains, feeds, entice bear, attract all types of deer, or make a hog root for hours. Many uses with one outcome - Put it out and a Beast will come to Feast!
Hogs cannot resist this mix! Use Hog Wild Straight - Sprinkle over a ten foot area in known hog country and hogs will come. Use Hog Wild in a Hog Trap - Place a cup of pure Hog Wild on a plate inside of the trap and hogs will appear... dying to get in! Use Hog Wild Mixed - Mix Hog Wild with up to 50 lbs of corn or grain and then pour into a man made hole or hog wallow.